The communication revolution is happening before our eyes and has affected most of us. If you're able to read this article on your mobile phone, credit should go to the advances made in telecommunications. Till two decades ago we had been talking about how information technology is shaping the world.So a career in telecom Industry is bound to grow in India in the coming future and can never end.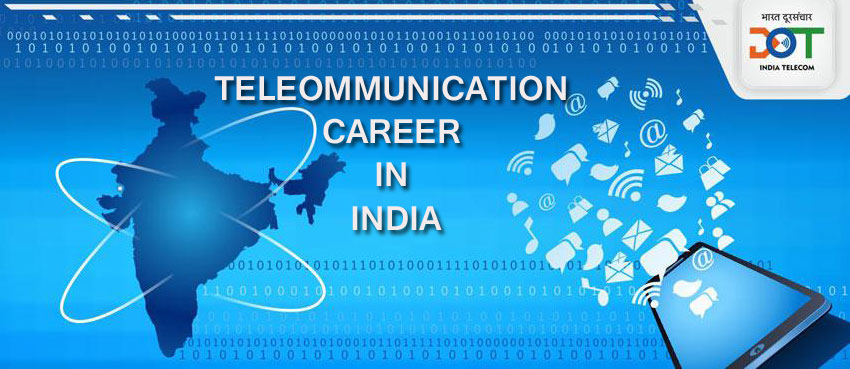 In the 21st century, a similar role is being played by communications technology which of course is supported by information and other technologies. At best of times penetration of landline phones in our country didn't cross the 10 percent (or one connection for every 10 persons) mark. Today there are more than 1150 million phone subscriptions in the country.
Telecom (short for telecommunications) industry has been one of the fastest growing industries in the country. India's telephone subscriber base expanded at a compound annual growth rate of 19.16 percent during the last year. Due to stiff competition, some consolidation is going on in the industry. Telecom companies are also in the process of optimizing and rationalizing their operations. Some churning may happen in this phase, but the future of telecom industry is promising with consistent demand for competent professionals.
As of now, India is the world's second-largest telecommunications market. The Indian mobile economy is growing rapidly in particular and is likely to make a significant contribution to India's Gross Domestic Product (GDP).As brought out in a report by the Boston Consulting Group (BCG), India is the fourth largest app economy in the world.You might have observed how apps are changing our way of communicating, shopping etc. According to a Microsoft report, India will emerge as a leading player in the virtual world by having 700 million internet users of the 4.7 billion global users by the year 2025.
The credit for this growth of telecommunications segment goes to the liberal and encouraging policies of our government and industry groups which preferred to invest in this sector. Compared with the past, telecommunication services are now available at affordable cost. With easy access and simplicity of use, the business is expected to expand further. We have now access to 3G and 4G networks and 5G networks are not far away. It shows how dynamic is the field of telecommunication.
The business of telecommunications has two major parts-one of equipment and other of networks. The first one covers equipment, handsets, and transmission towers etc. while the other is made of airwaves, spectrum etc. Even wireless networks require the installation of proper devices with the provision of cabling etc. Both technical and managerial jobs are available in the telecom industry. Technical jobs can be found in one or more of the following :-
Network Management: Base Station Service, Core Network, Field Maintenance, Transmission, Optical Fibre, Broadband Installation, Network Security, etc.
Application Development: Mobile Applications/ Games/Apps Developer, Handset Software Developer, Embedded Hardware Developer, Network Software Developer, etc.
Background / Passive Infrastructure: Users don't have a direct interface with such Infrastructure, but these are critical for telecom services to be available. These include Transmission Tower, Radio Frequency, etc.
Technical Service Support: Functions involve providing on site and off site support and troubleshooting.
To take care of the above, telecom companies require skilled technicians whose technical expertise matters more than a regular degree or qualification. For higher responsibilities, companies need graduate engineers who are trained in mechanical, electrical or telecommunication engineering. Mechanical and electrical engineering courses have been available since long. Courses in telecommunication engineering were introduced later as the need arose and the technology of telecommunication evolved.
At most of the engineering institutes, telecommunication engineering is taught in combination with electronics. However, there are institutes which offer an exclusive degree in telecommunication engineering. There may not be much difference between the coverage of these two courses, and a candidate may choose any as long as there is assurance of the course quality and recognition by regulatory bodies like All India Council for Technical Education (AICTE) and Universities Grants Commission (UGC).
Electronics and Telecommunication Engineering involves the study of various principles and practical aspects related to the designing telecommunications equipment and networks. Electronics and Telecommunication engineers develop prototypes of integrated circuit components, etc. The topics covered in the course are Semiconductor equipment, Network Theory, Signals, and Systems; Digital Logic, Designing Analog Circuits, Antenna and propagation, Radar and radio navigational aids, Communication Systems, and Techniques, Electromagnetism, Transmission techniques etc. The course duration is 4 years and one may be awarded the degree of B.E., B.Tech or B.Sc. (Engineering).
Let us look at some of the institutions offering degree courses in electronics and telecommunication engineering: –
Indian Institute of TechnologyKanpur, Delhi, Chennai, Kharagpur
National Institute of Technology, Warangal
Motilal Nehru National Institute of Technology, Allahabad
Delhi College of Engineering, Delhi z Malviya National Institute of Technology, Jaipur
M S Ramaiah Institute of Technology, Bengaluru z B M S Institute of Technology, Bengaluru
College of Engineering, Thiruvananthpuram
Manipal Institute of Technology, Manipal
P S G College of Technology, Coimbatore
Visvesvaraya National Institute of Technology, Nagpur
Sardar Vallabhbhai National Institute of Technology, Surat
Cochin University of Science and Technology, Kochi
A graduate course in engineering can be pursued after 12th class.Another option to study telecommunication engineering is to join a three years Diploma course offered at various polytechnics for which the candidates should have passed SSC. Generally, these polytechnics are established by state governments.The course fee is low. After completion of Diploma you have two options. You may choose to work or take admission in 2nd year of graduate engineering course for which quota is provided at specific engineering colleges.
Managerial Roles
Although postgraduate degree holders in various disciplines in management viz. marketing, HR, operations, finance can explore the opportunity to work in the telecom industry, there is greater demand for professionals having specialization in telecom management. Considering this many management institutions in the country have introduced postgraduate courses in telecom management or offer a specialization in telecom management. Some of these are listed below: –
MIT School of Telecom Management, Pune.
Amity Institute of Telecom Technology & Management, Pune
International Institute of Information Technology, Pune.
Symbiosis Institute of Telecom Management, Pune.
Regional College of Management, Bhubaneswar, Orissa.
Balaji Institute of Telecom and Management, Pune.
The lists are indicative and not exhaustive.
One way of making a focused career in the telecom industry is to pursue MBA with specialization in telecom management after completion of engineering in telecommunications. Big telecom companies mostly rely on campus placements to meet their requirement of entry-level engineering and managerial positions.
Job Opportunities
As an engineer you have the opportunity to work in companies which are in the business of manufacturing telecom hardware, developing software and network service providers. Companies in the hardware segment include holding brands like Samsung, Nokia, Lenovo, Dell, Reliance, Carbon, Lava, Micromax, etc. Due to lower manufacturing cost China has emerged as the major supplier of handsets. There are Chinese brands of mobile handsets and also companies who undertake to manufacture of handsets of other well known and lesser known brands of handsets. Some of these have in recent years established manufacturing facilities in India also. Prominent network service providers in India are Bharti Airtel, Vodafone, Idea Cellular, Bharat Sanchar Nigam Limited, Mahanagar Telephone Nigam Limited, etc.
Global bigwigs like Apple, Facebook, LinkedIn also require telecom professionals and are much sought after.
China Mobile Limited , China Telecom (both belonging to Peoples Republic of China), America Movil, Verizon Communications Inc., AT&T Inc.(belonging to United States) Nippon Telegraph & Telephone Corporation (of Japan), Deutsche Telekom AG (of Germany), Telefonica S.A. (of Spain), Vodafone (originated in United Kingdom) are topmost global companies offering telecommunication network globally with workforce of different nationalities including Indian.
Even information technology companies need telecom engineers as IT and telecom are coming seen together in many of the cases. Giant companies like Tata Consultancy Services, Tata Elxsi, Infosys, etc. are involved in developing telecom software. There are smaller entities and start ups also who develop customized software for use in telecommunication.
Telecommunication Arena
Another area of work is satellite television. Telecommunication related careers are available in leading government organizations like Bharat Electronics Limited (BEL), Indian Space Research Organization (ISRO), Defence Research and Development Organization (DRDO) and few others. Centre for Development of Telematics, popularly known as C-DOT with offices at Bengaluru, Kolkata and New Delhi; has been established as Telecom Technology Centre of Government of India .It offers training and consultancy in the area of telecommunication. You may choose to work with them and may also avail their services for your skill development. Teaching opportunities are available with polytechnics, engineering and management institutions.
Other than engineering and management roles, telecom companies also provide work opportunities in the areas of customer service, accounting etc. One may get to work in their call centres. These jobs don't require higher studies or specialized qualifications.